Unknown Passions: Fan Fiction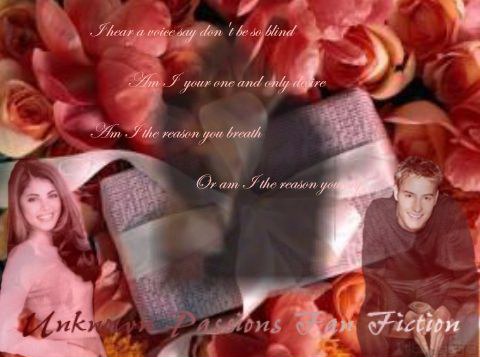 Last Updated: 3/10/03

Disclaimer:
I or any other fan fic writers on this page do not own any of the characters from Passions, Roswell, Angel, Buffy, Days of our Lives, or Alias (even though I don't announce it I do have a character from the show in one of my fics).

"Passion. It lies in all of us. Sleeping... waiting... And though unwanted... unbidden... it will stir... open its jaws, and howls. It speaks to us... guides us... Passion rules us all. And we obey. What other choice do we have?"
"Passion is the source of our finest moments. The joy of love... the clarity of hatred... and the ecstasy of grief."
"It hurts sometimes more than we can bear. If we could live without passion, maybe we'd know some kind of peace. But we would be hollow. Empty rooms, shuttered and dank... Without passion, we'd be truly dead."
-Angelus (Buffy the Vampire Slayer)
(What can I say? I'm a Buffy fan!!!)

Every once in a while I get bored with that Buffy quote so I decided to use something else. Oh yea, and if you can think of any quotes (not from Passions) send them in, and I might use them. They just have to be about love or all that sappy stuff. In case you didn't know my e-mail is
nightangel490@aol.com

Updates:
3/10/03
(Finally a free day!)
New: The Past Lives of Theresa and Fox: Part One, The Titanic
Incomplete
By: XxAshguyxX
Another Link:

1/25/03
New: Sweet Revenge
Complete Story
By: Ashley
True Love
Chapters 5-8
By: Angel

1/20/03
New: True Love
Chapters 1-4
By: Angel

1/18/03
Artificial Flowers
Chapter 4
By: Ashley

Pic of the Week:
3/10/03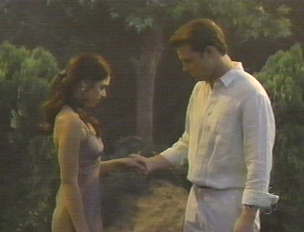 (Remember him?)

Random Photo of the Week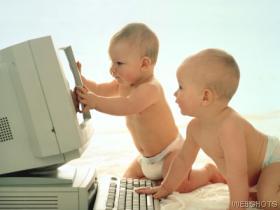 Awww!
(I just found this and wanted to find an execuse 2 put it on the site.)